CodiTramuntana has developed and created Sportravelling
CodiTramuntana has developed the online booking website Sportravelling
The first product of CodiTramuntana is an online travel agency, Sportravelling, an online booking engine that allows customers to buy and enjoy different activities, short breaks and sport related experiences in several touristic destinations of Catalonia.
Developing this project responds to a combination of two aspects in which CodiTramuntana excels: IT developments and knowledge of the tourism sector.
Sportravelling is an online platform that allows you to book different tourist and sport related activites located in Girona's region, with special mention to Costa Brava and Girona's Pyrenees. We have recently expanded our action area to Barcelona, extending our activity offer.
Sportravelling, active since the summer of 2013 and translated into four languages (Catalan, Spanish, English and French), has an estimated 1000 monthly visits and a growing number of followers on social media.
It currently has more than 70 different activity providers scattered around Girona's region. Among them you can find diving centres, mountain guides, cycling centres, hotels, campings and rural houses.
Sportravelling website has different sections: activities (one day activities), short breaks (that include one night or two night accommodation) and holidays (longer short breaks).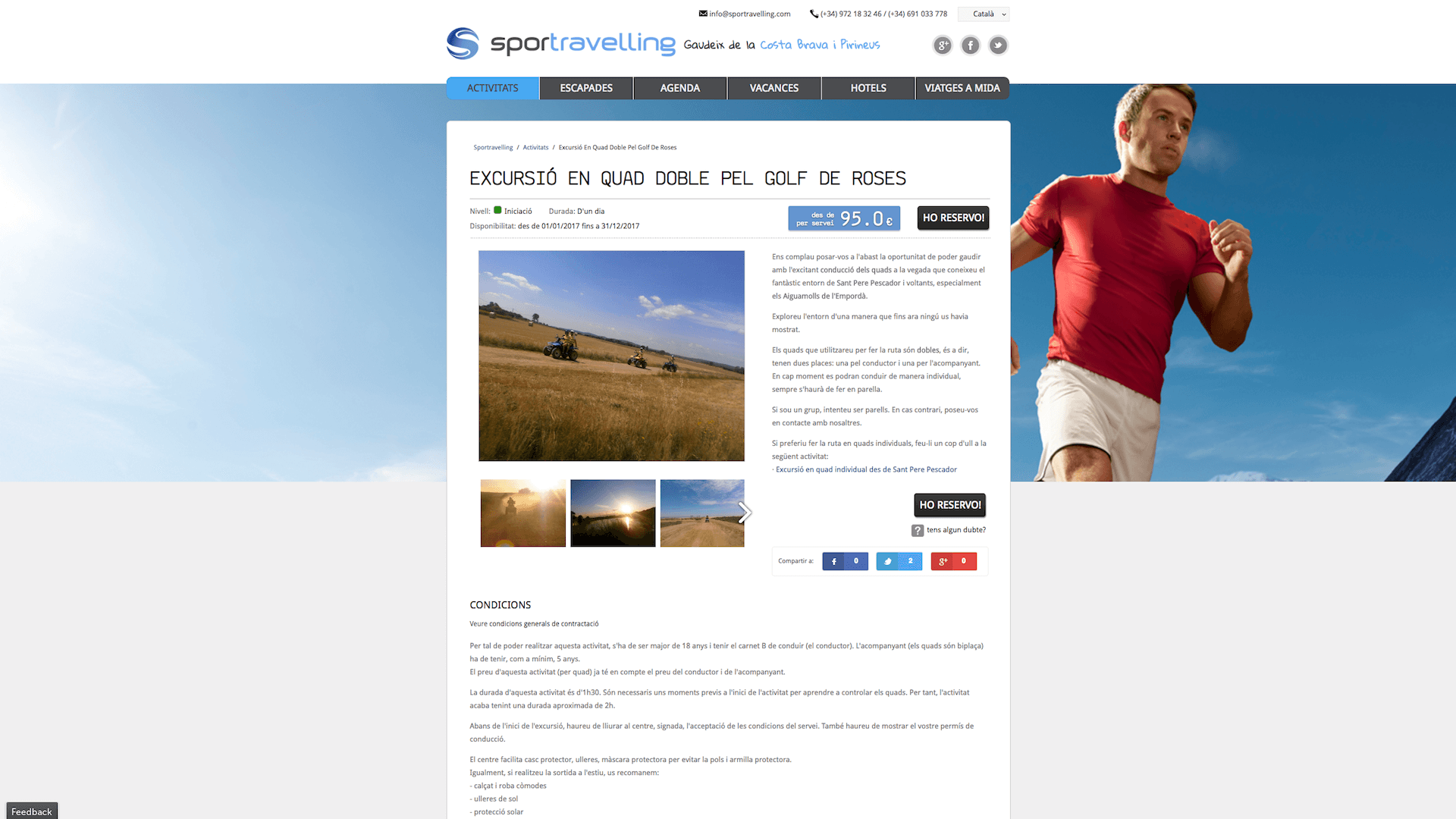 Sportravelling development
Sportravelling has been developed using RoR, a solid and mature framework with a great ecosystem of libraries, contrasted effective patterns and based on convention over configuration. A series of characteristics that make it a great language to develop websites.
Sportravelling platform manages bookings and payments done over the website in an easy and comfortable way, keeping a daily track of sales and its current state.
It also becomes a great database of all published activities, short breaks and holidays, as well as activity providers that usually collaborate with us.
These are just some of the basic functionalities of Sportravelling site.
From its brand new start, Sportravelling is in constant development and continuously adapting to market changes (coming from both providers and customers).
We hope we will be able to show you the most recent ideas we have in mind soon enough. Updates that will improve the user experience and also facilitate web browsing. Stay tuned!