New characteristics of our Sónar Apps
After developing Barcelona Sónar Festival App, held last June, we introduce a new version that extends the functionalities of the first one. Among the newest characteristics of this version we highlight: the total conversion into a multifestival App and the enhanced interactive calendar.
The main functionality that users will be able to enjoy is that the App becomes 100% multifestival. You will have access to all the content of the festivals and their different published editions. Taking Sónar Barcelona festival as reference, each festival will have different functionalities available depending on their length, if it includes Sónar+D and so on.
Besides, from any tablet or smartphone, you will be able to check the schedule of the different festival using our new interactive calendar.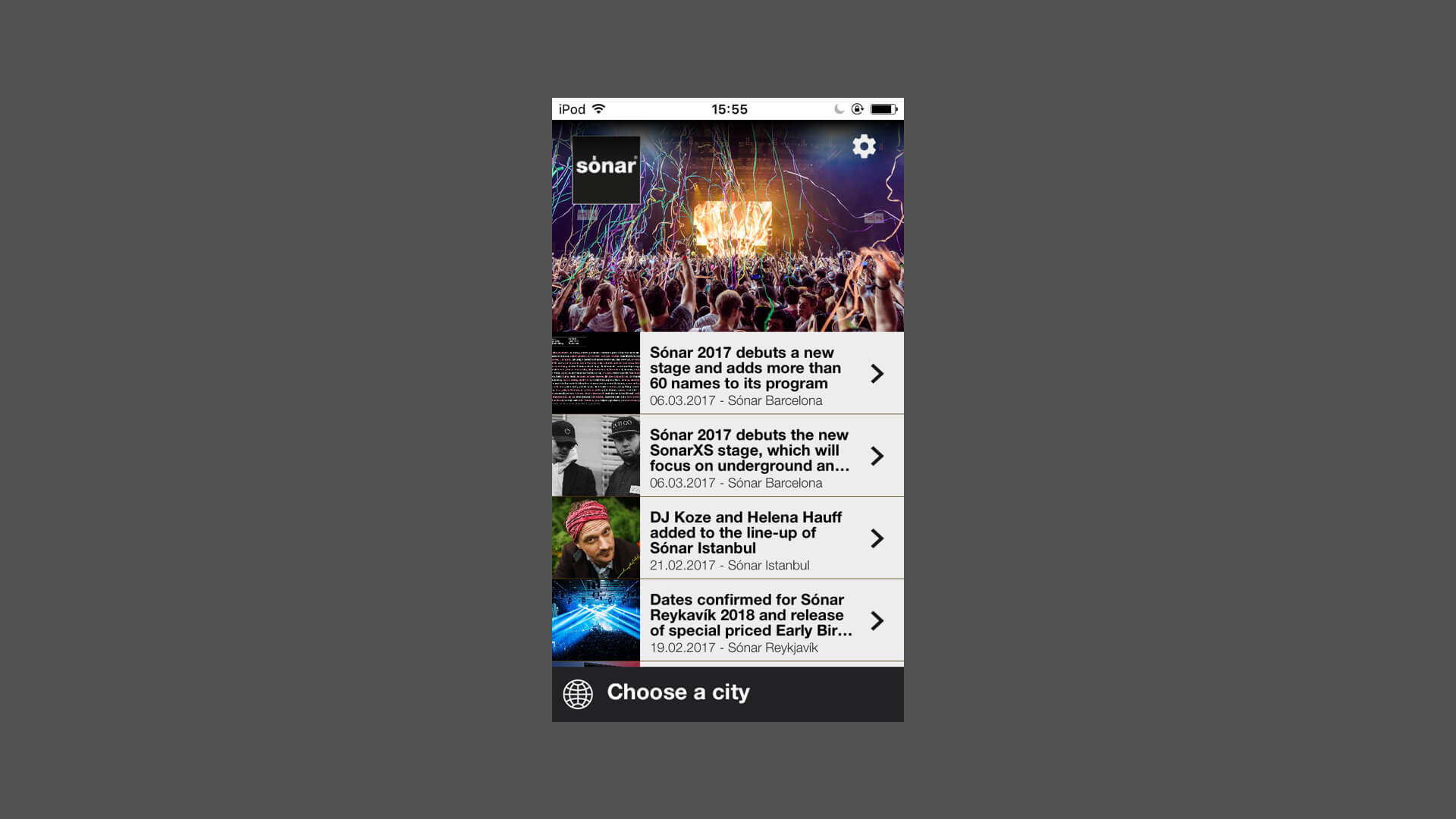 Taking into account the rest of functionalities, among the most highlighted of the whole App we find MyAgenda, a section where you can check the list of artists and activities. that have been selected as favourites and/or important. If the user wants it this way, the very App can set reminders minutes before the start of the performances you are interested in, so you do not miss them.
Augmented reality is a feature that will still be found. Through geolocation, any user can locate in situ all different venues and checkpoints that should not be missed, such as access and exit points, ticketing points...).
Inside each festival all users will be able to listen to the radio that Sónar has prepared with tracks from all the different artists that take part in each festival.
For all these companies that are interested in going to the Sónar Festival and establish new contacts, in all those cities that allow this feature, they will be able to use the very Sónar App to do networking with relevant personalities and other professionals will be a possibility.
Each festival features up-to-date information about the artists that, day to day are confirmed. This way it is easier for the user to stay tuned and not miss the latest news so he can get the tickets for the festival at any moment.
We do not have to forget that the App also shows news of all the different Sónar festivals, with content directly downloaded from the official Sónar website. The perfect way to stay tuned and never miss the constant work of the tireless and creative people of Sónar!
The new version of Sónar Festival is available on the App Store and Google Play.