What will we focus on this year's edition of Mobile World Congress
As we already announced a couple of weeks before, CodiTramuntana will participate in another edition of Mobile World Congress as an exhibitor company. The most important congress in the world in terms of mobile technology is, undoubtedly, the perfect framework to show both the most important projects we've been working on this 2015 and the new projects we have for 2016.

On this edition of Mobile World Congress, CodiTramuntana will focus on three different aspects: event apps, apps to increase sales and IoT software solutions (Internet of Things).
During this days, we will officially announce the product we have developed for the event industry: Suitevent.
A platform specially designed for OPCs, event and show organizers, etc. that improves engagement and connects with audience and attendees before, during and after the event.
Music festivals, theatre festivals, cinema festivals, business congresses and meetings and corporate events fit perfectly into this format.

Suitevent allows you to configure apps for both Android and iOS with all the information of the event. Applications incorporate features such as segmented push notifications, schedule and agenda, communication with speakers, sharing content on social media and lots more.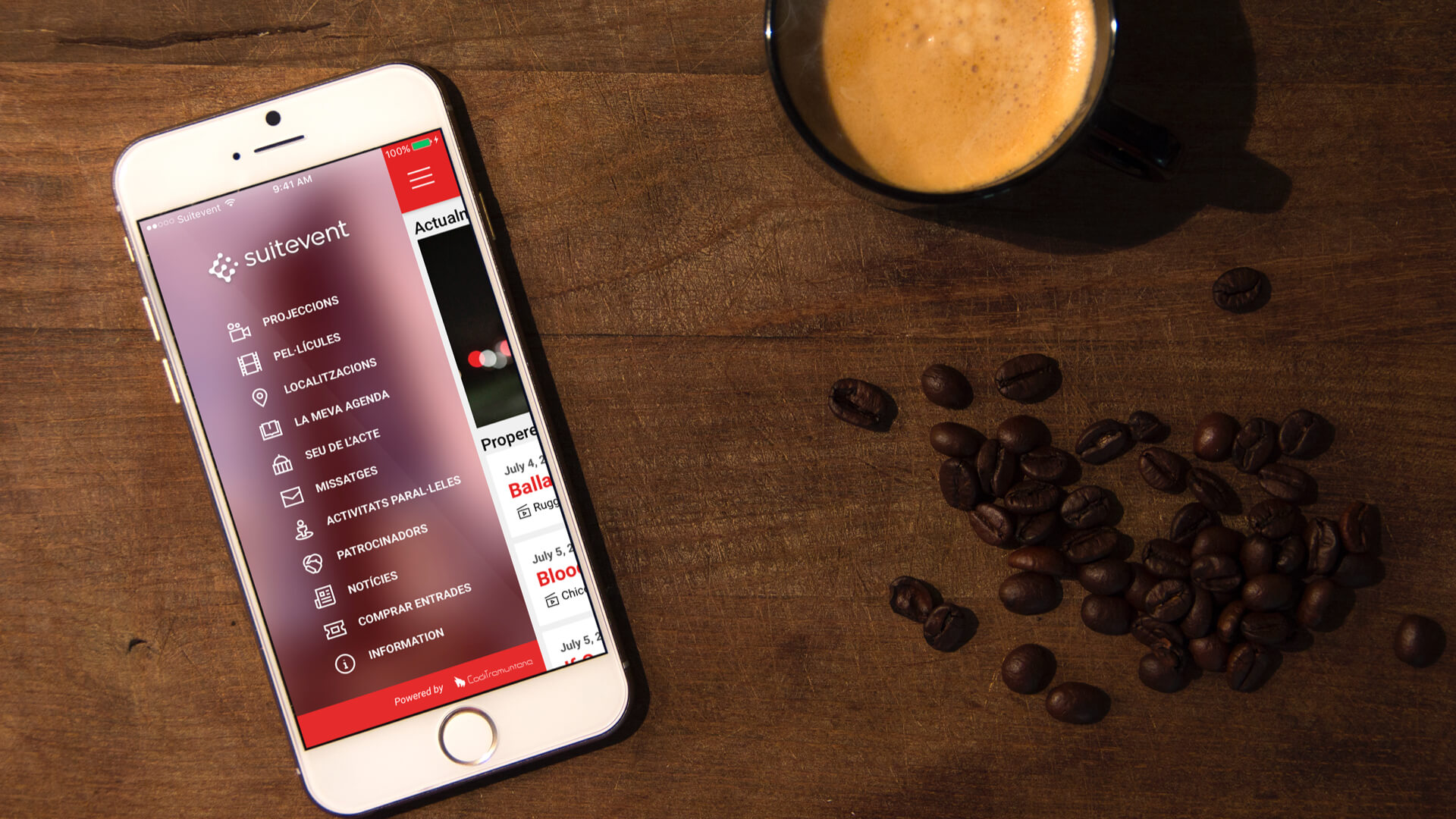 The Internet of Things is growing and CodiTramuntana has much technical knowledge to solve innovative applications. The challenges of IoT projects imply developing solutions with server software capable of managing a number of relevant data, making analysis of these features as well as allowing for a technical team for control the network of IoT devices.
Besides solving challenges in communications, our team always provides great value in terms of user interfaces (UI), Bluetooth communications (classic / BLE) or Internet (Wi-Fi, 3G, LTE ...).
Experience in industrial projects, our hardiness and maturity when programming with Ruby on Rails, and various cumulative projects make us a good technology partner for IoT projects.
We provide apps to enhance your sales, which allow monitoring the tasks of your sales force and customer loyalty, while increasing sales, both direct and indirect.
The professional solution we present is meant for those companies looking for a useful, intuitive, corporate and mobile tool for their sales force.
A compilation of the catalog of corporate products that can serve as a sample for different potential clients or an agenda linked to the office CRM are good examples of this solution.
Mobile World Congress 2016
As an exhibitor, this year you will find us at Hall Congress Square (Spain - Catalonia Pavilion), stand CS50-38, thanks to Generalitat de Catalunya and ACCIÓ.
If you want to schedule a meeting with us or simply visit us during MWC 2016, send us an email and we will be more than happy to assit you!